ArtPrize - Devos Place- Sept 14th -Oct 1st.
This year my my painting, Perfect Creation, will be featured in the Devos Place for ArtPrize in Grand rapids. I would love for you to come out and see my entry! There are multiple cash prizes for this event, that I would use to grow my art studio and gallery so that others are able to connect with my work better, as well as invest in more offerings, and book.
If you have been touched by my work, this would be a great time to come show support! Voting starts Thursday September 14th! I will be at my painting on Saturday the 16th.
There are two rounds of voting, the first round being the first week that decides the top 25, and the second round the decides the top winners. You get to vote in both rounds.
303 Monroe Ave NW, Grand Rapids, MI 49503
ArtPrize - Perfect Creation
Randi connects to the spirit of truth and beauty through her landscape paintings, and brings it's peace and harmony to your home.
"Bringing your art into my home office was a perfectly-timed miracle. Now that the room has gone from long-neglected to being where I'm sitting from day to night, Harmony brings me a miraculous breath of fresh air and a reminder of Sleeping Bear." - Tiffany Ng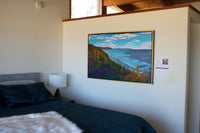 Manitou Music Festival Poster
Sharing Beauty
Randi captures the essence and spirit within nature through her work to share its beauty and healing to others. She hopes that her paintings can bring inspiration, peace and life to others lives, connecting them to the truth of love and beauty within our world. Each piece flows from her heart, resulting in a spirit filled painting.
She shares her paintings and connects with others at fine art festivals, music festivals and galleries.
You can find her work in person at Somebody's Gallery in Petoskey, and Synchronicity Gallery in Glen Arbor, Michigan.
Learn More
Process
Randi is inspired by her hiking trips and explorations. She paints outdoors as well as in her studio for her larger pieces. There she is able take time to develop each piece in her creation process as she listens to music, connects to spirit and creates a painting filled with love, beauty and life.
Learn More
Conservation
Randi's work brings attention to beauty within the pure and natural state of nature, as well as our spiritual selves.
She has worked with the Land Conservancy of West Michigan to bring awareness to preserved lands in the community with her art, and the importance of its restoration for health.
Learn More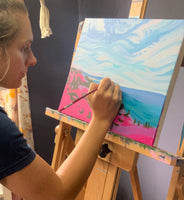 Contact
Contact me with any questions or inquiries for custom paintings at: 
contact@randifordart.com (269) 779 - 2225
I can work from an image of yours, or we can select though my images to create a painting perfect for you. I would love to work with you, and help bring more beauty to your life. 
More Infomation
The Empire Bluff Collection