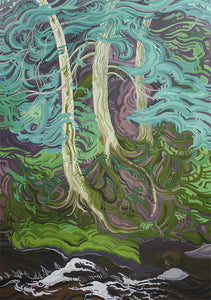 This is a fine art giclee print of my painting, Watching Above. Watching Above was inspired by my time exploring the Porcupine Mountains State Park.  These beautiful trees were growing on the side of the ravine along one of the rivers.  I loved all of the moss growing against the blue green leaves and white bark on the trees.  
Watching Above comes in two options:
9.25" x 13 "image on 12" x 16" piece of fine art paper.
13" x 18"  image on 17" x 22" piece of fine art paper.