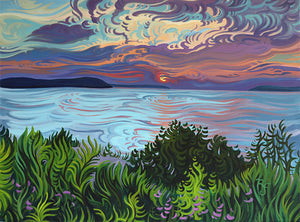 Still Here captures a beautiful sunset along Lake Michigan filled with life, color and movement. It is a piece that allows you to sit, contemplate and reflect on life.
We have all gone through a lot in our lives, and we are still here, enjoying every moment we can, reaching for the light.

Still Here is framed in a gold floater frame.
Still Here
30" x 40"
Acrylic on Canvas
$3,400