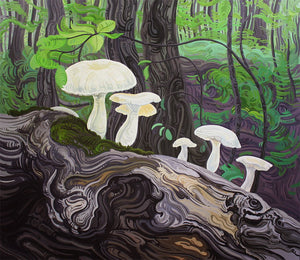 I created this original painting, Family, after my time spent at the Porcupine Mountains in Michigan's Upper Peninsula.  I found this beautiful grouping of mushrooms growing on a log deep in the mossy forest. The soft glow of the beautiful mushrooms against the greens in the background and complex bark inspired this piece.
Family is a large painting that would make a wonderful focal piece in a home.
Family
43" x 48"
Acrylic on Canvas
$5,800
Free Shipping or Delivery.
Canvas and paper prints are also available.